MQTT Broker:
Pro Edition

for

Eclipse Mosquitto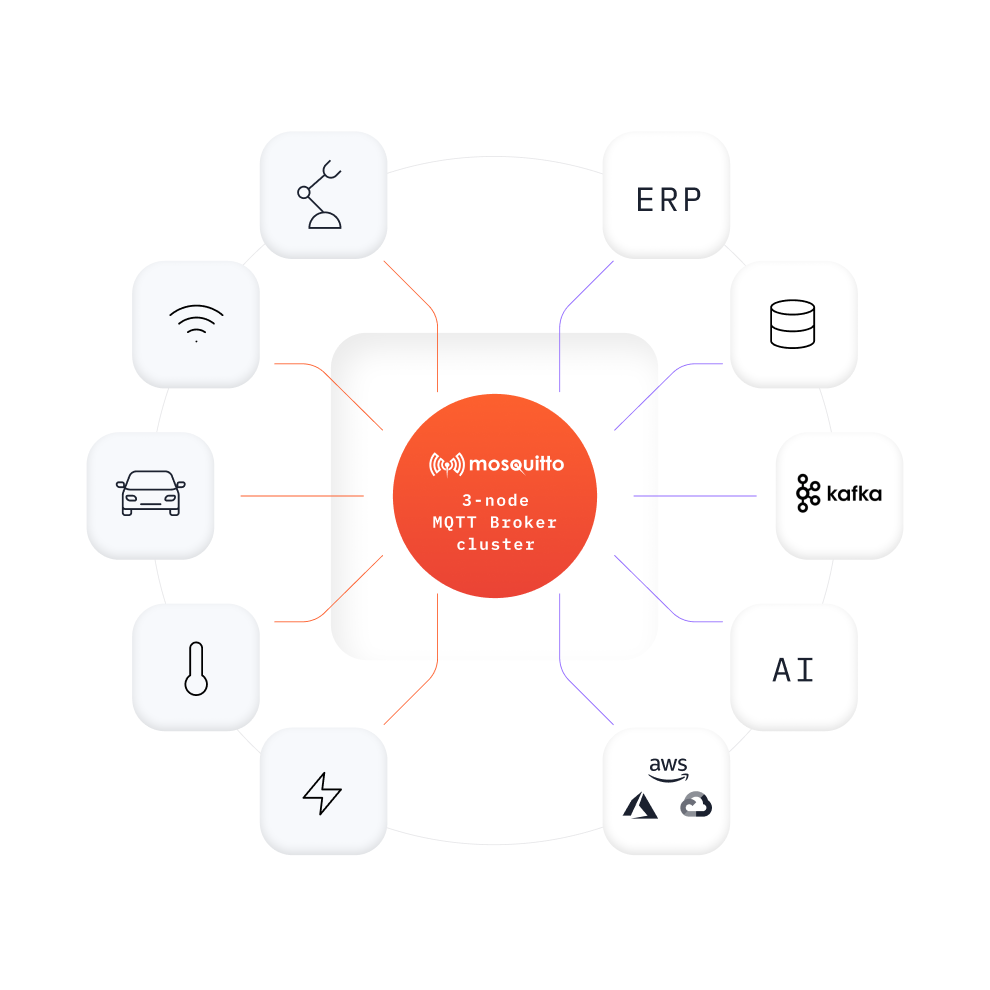 The pro version of the world's #1 MQTT broker to quickly, stably, and reliably transmit data between devices.
What is Pro Edition for Mosquitto MQTT broker
Pro Edition for Mosquitto MQTT broker is a fully supported version of the leading Mosquitto open-source project offering high availability and high performance to its customers worldwide.
It is a message broker in the center of IoT architecture and enables the communication between clients, including sensors, smartphones, web apps, and other devices. Thanks to its high efficiency, the movement of data, e.g., texts, images, .json files, and more, requires only minimum bandwidth and computing resources, resulting in low CPU and RAM.
Cedalo offers managed (cloud) and self-hosted (on-premises) MQTT servers for Windows, Mac, Ubuntu, and Linux.
Best and fastest MQTT broker in the world
6.8K+
500M+
Core features of our MQTT message broker
High Availability
Ensure that your solution is 24h available, so you can entirely rely on it. Set up at least three MQTT broker nodes and form a cluster. If the leader node fails, another one will seamlessly take over the role of the primary server and continue smooth operation. As a result, enjoy peace of mind when adopting an MQTT message broker for any critical application. Discover more about the MQTT High Availability.
Optimized Performance
Benefit from the low usage of CPU and RAM resources thanks to the superior architecture of Mosquitto. For instance, run 100,000 and more connections on a single MQTT server node. Use the Performance Dashboard to monitor the load on your brokers, like the number of connected clients, active subscriptions, and processed data volumes.
Security
Leverage our MQTT server's native Dynamic Security Plugin to perform fast authentication and manage access rights of users based on groups and roles. Open or close ports based on your business needs (per default, they are closed). In addition, change security settings on the fly and without re-boot.
Rest API
Use the Management Center's REST API to automate the administration of the MQTT broker and integrate it further. Our HTTP endpoints provide data on the status and allow managing clients and users. In other words, automate actions and operations, including those carried out through the Management Center or interactions with other applications, e.g., "querying a topic tree."
Graphical Management Center
Administer and monitor your MQTT broker with a convenient graphical interface. The Management Center is separated from the actual broker by a proxy layer. The proxy layer and GUI don't run on the same CPU and memory as the broker. Therefore, you get the convenience of a modern user interface without losing the efficiency of your lightweight MQTT broker.
On-premises and hosted by Cedalo
Feel free to choose the professional license you need: on-premises or hosted by us. Select the on-premises version if you want to take over the software's running and infrastructure completely. Otherwise, if you do not want to do it but rather subscribe to a service and do not worry about infrastructure or operations, the Cedalo-hosted version is your best choice.
How Pro Edition for Mosquitto MQTT server works
The Pro Edition for Mosquitto MQTT message broker is the core communication element in an MQTT environment. Above all, it is responsible for routing messages from publishing to the correct subscribing clients and maintaining detailed access rights for clients and users.
Clients and the MQTT broker establish a connection.
Publishing clients publish messages on topics. The MQTT broker supervises writing permissions.
Subscribers may subscribe to a particular topic and, by doing so, receive all messages sent to it by publishers.
Recommended: Only work with authenticated connections. Enable TLS encryption to ensure secure communication.
Why use the MQTT server for your tech infrastructure
Lightning-fast & performant
Benefit from the powerful data delivery. Capture information in real-time while using minimum CPU and RAM resources. Deploy the best MQTT broker created in the C language and improved over its lifetime as an open-source project through millions of deployments.
Innovative
Be the first to access the latest upgrades of the MQTT communication protocol. Pro Edition for Eclipse Mosquitto has proven to be leading the implementation of the most recent MQTT versions. Join the technology pioneers and deliver best-in-class solutions to your customers.
Secure and reliable
Rely on our product to become the backbone of your setup. Use it to establish secure connections and ensure stable message transmissions, thanks to our extraordinarily high product management and development standards.
Transparent pricing
Access the MQTT broker's full pricing on our website. What will you see? – It includes zero hidden costs or charges. Start benefiting from Pro Edition for Eclipse Mosquitto today without spending a fortune on your IoT infrastructure.
Trusted
Deploy the professional MQTT broker based on one of the most prominent and trusted open-source projects, Mosquitto. The creator of Mosquitto, Roger Light, leads the development of Pro Edition for Eclipse Mosquitto, bringing his unique lifelong experience into the Cedalo product offering.
Supported
Feel free to contact us during the initial project planning and implementation or in the course of your active MQTT broker application stage. Based on your project needs, choose a support level that suits you best! Our team will help and guide you through all steps and at all times.
Clients about us
"Due to its stability, resource efficiency, and performance, we chose to make the Pro Edition for Mosquitto the standard MQTT broker on the new automation platform ctrlX AUTOMATION of Bosch Rexroth.
For our broad customer base in factory automation, smart manufacturing, and infrastructure technology, it is essential that Cedalo, as the company behind this iconic software, provides professional support within our open ecosystem ctrlX World. Cedalo also did an excellent job seamlessly integrating Mosquitto into the ctrlX AUTOMATION environment.
We are looking forward to adopting further Pro Edition features, like the MQTT High Availability, onto the ctrlX CORE edge controller soon."
What to do next?
Do not hesitate to launch a Free trial or contact our team members for more information.